Q&A: Best Travel Apps - iPhone, iPad and Android Apps for Travellers
'Shake, rattle and roll' when you are travelling with a fabulous range of smartphone applications that are being developed all the time from finding last-minute flights, hotel deals, schedules, virtual tours, travel advice, translation tools, ways to organise your photos and safety advice. How did we all travel in the past without these great apps.

Many of the traditional App Store favorites such as Urbanspoon, TripAdvisor and Webjet have a wide range of rivals, including those for Android Phones. Now you can book a cab in a foreign city, try virtual tours, keep track of your schedules and even verify that your travel vaccinations are up to date all with a shake and swipe. There's lot of new apps to choose from that will take the hassle out of travel.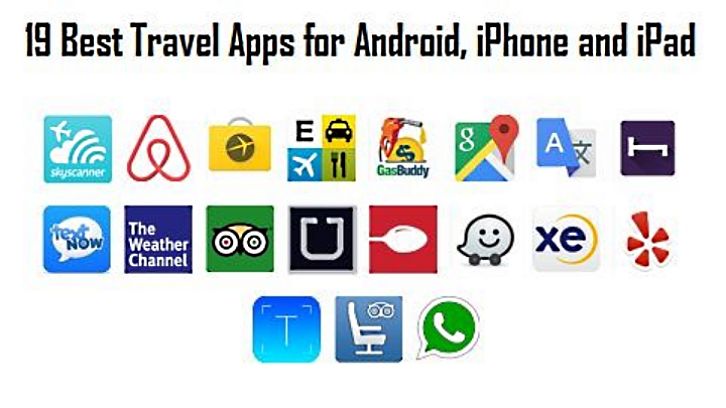 Great Apps for Bookings
Hotels.com has a great and very user-friendly iPad app that allows users to search, find and make bookings for more than 140,000 hotels worldwide in a system that includes more than 30 languages. The free app gets users quick access to more than 25,000 last minute deals, more than 2 million user-entered reviews of places to stay and lots of great last minute bookings for specific locations. There are several other hotel and accommodation booking apps. Many of these applications offer special deals to smartphone users that are not available through other channels, or so it is claimed.
Google has launched
Google.com/flights
and has started blending full flight data into its general search results. Now,users can search for flights by destination, time and see price comparisons directly within the Google search results. The main advantage of this is that the results are delivered very, very quickly.
Great Apps for Travel Inspiration - Where to go, What to See and Do
Some travel apps are more about inspiring you to travel and get a taste for what's available than about providing practical advice.
For example the new World of A&K pads app allows you to virtually see and explore about 26 iconic destinations places around the world with a variety of multimedia devices.
Travellers can make use of the World of A&K's fabulous interactive map to display various places are planning to visit or they have visited, and they can share with family and friends by exporting the map to Google Earth.
There are many country-specific apps available that provide virtual tours to help you plan your visit. In Australia, there is the fabulous 'Australia: Where to Go' app that has a wealth of multimedia images and great information. It provides 'top 10' listing for various categories and the app provides great inspiration when planning a trip, as well as practical information resources once you are travelling in the country.
Users can choose various categories to narrow down the information using criteria such as luxury resorts, family, urban, nature reserves and wildlife. This helps users find attractions and activities that suit their particular interests.
The Dutch airline KLM has released a very smart and fun to use TripShake application that allows users to get some travel inspiration simply by gently shaking their phones.
Users can enter various criteria such as travel dates, destinations or not specify any options. When they shake their phones the app will suggest various destinations as options.
If the user shakes their phone again the app will provide another suggested destination and the users can keep shaking until they see a destination that appeals to them.
Many foreign hotel-booking sites are also starting to display examples of what ,many future apps may provide, incorporating various top-quality video-based virtual tours of their hotels and local attractions into their apps, so travellers can get a good view of what the hotel is like an what it offers before the use makes a booking.
Apps for Travel Information
TripAdvisor is proving destination-specific information similar to that provided by Lonely Planet on smartphones. They include 20 major cities and more are being provided all the time. These guides are available for Android phones (with iPhone apps due shortly). These guides are kept up to date, but they can be can be used offline, so that users can avoid expensive connection charges.
More and more of the specific destinations themselves are now developing their own apps, to promote their facilities and provide information for visitors on what they can see and do when visiting these destinations.
For example in Australia, Tourism Victoria has recently developed a classy 'Play Melbourne' app that includes about 500 listings of bars,, live gigs, cafes, restaurants and shops in and about Melbourne. Similarly Tourism Western Australia has launched its own tourism app called 'An Experience WA' app that includes more than 7000 listings.
Even regional tourism areas have developed together their own apps: the Mudgee region located north-west of Sydney has released its own free iPhone app that promotes the wonderful local wineries and attractions in the area. Similarly the Pacific Coast company has created an iPhone app that describes all the wonderful range of attractions and activities along the popular tourist drive between Brisbane and Sydney.
Apps for Specific Interests
Wine and Food-oriented travellers in Australia can get free information on thousands of cellar doors, vineyards, restaurants and food producers through a new iPhone app, called 'VisitVineyards'.
For nature-focused travellers, there is a whale-watching guide and information app, 'Wild About Whales', for Androids and iPhones, created by the NSW National Parks and Wildlife Service with information on whale watching facilities, recent whale sightings, and whale-watching tour providers and lots of great information about different types of whales and whale behaviour.
There are lots of special interest apps available for most countries and localities.
Apps for Warnings and Health Advice
US State Department, the American Foreign Affairs Department and other Government agencies throughout the world, offer various apps that offer travel warnings and country specific travel advice, location of embassies and visa information etc. Theses apps are very worthwhile because your home country travel advice many not be updated as quickly. In Australia, the Department for Foreign Affairs and Trade (DFAT) has developed its own Smartraveller web advice and email warning service, which is similar to US one with a similar name - the US Smart Traveler. Most countries have similar information sources on apps or websites.

Trip It Travel Organizer
This fabulous organizer eliminates all the hassles of paper itineraries. Trip It is very smart as it connects with your e-mail account and logs every confirmation number that you receive in your inbox. Any booking, flight, hotel, resort or even a dinner reservation you have made, that contains a confirmation number will be added to your organized itinerary. The apps keeps all your itinerary information in the one place. Any information about flight delays and other last-minute changes to bookings etc. that are sent to your e-mail will be used to update your itinerary automatically. Compatible with iPhone, iPod touch, and iPad - Requires iOS 3.0 version or later.
FlightAware
FlightAware is perhaps the, simplest, easiest to use, no-frills app for tracking your flight. All you need to do is to supply information about your airline and your booked flight number and this wonderful app will do the rest. It will monitor your flight provider and record updates on flight changes, gate changes, delays, cancellations or rescheduling of flights.
Photosynth
This app allows you to combine together as series of photos to create beautiful panoramic images. You can send the 360-degree images it produces views to your family of friends. Works on Apple Devices and requires iOS 4.0 or later.
Instagram
Instagram is a wonderful photo and image-editor for simply converting your photographs into wonderful images you will be proud of. The package includes many filtering and enhancing effects providing semi-professional, artistic and antiquated looks. The app makes it easy to share photos across social media networks and it offers many file size compression options. It is compatible with Apple Devices - Requires iOS 4.0 or later.
Postagram
Take a photo with this wonderful app that replaces the boring conventional postcards you can buy with ones that are personalised with your own photos. Postagram uses the photos you nominate and prints it for you for a mere 99 cents and will send it through the mail to your family and friends. Compatible with iPhone, iPod touch, and iPad. Requires iOS 4.0 or later.
Urbanspoon
You can find restaurants and food outlets in your immediate surrounds simply by "shaking" your smartphone and being presented with a list that you can slide up and down through. Urbanspoon makes use of the GPS device built into the phone and provides information for the U.K. and U.S., as well as Canada and Australia. Compatible with iPhone, iPod touch, and iPad. Requires iOS 3.0 or later.
Kayak
Kayak is one of Apple's most popular iPhone travel apps. It is one of the easiest way to search and compare resorts, flights, hotels and car rentals providers all in the one great app that even includes a function for generating a Packing List. With Kayak you do lots of things including tracking your flights, hotel bookings, make currency conversions. You can also get information on local tours and attractions in the regional area around your destination. Compatible with iPhone, iPod touch, and iPad. Requires iOS 4.0 or later.
Where (Blackberry and iPhone)
Originally developed for Blackberry smartphones and the iPhone, this wonderful app provides lots of visitor information about their proposed travel destination, including information about tours, fine dining, resorts, restaurants and a wide range of entertainment. It provides a wide variety of information about local weather, local movie theaters, local coupons, traffic information and fuel (gas) prices.
Trip Journal (Android and iPhone)
It another wonderful trip organizer designed for Android smartphones and the iPhones. The app helps users keep all their documents organized and to track their trip that pinpoints the places you've visited on a Google map and links with your geo-located photographs. The maps produced can be shared with friends and family through various social media sites.
Google Translate (Android Only)
Google Translate provides a great way of communicating with the locals when you are travelling. Not only does the app translate text into a huge array of languages, the app will also voice your sentences for you and even translate the reply received back into your native language.
Others include Skype, World Customs, Next Flight and HearPlanet, and lots, lots more.