How to Find and Trace your Stolen Camera using the Internet
Every photo you take with most digital cameras has embedded information about the settings used to take the photographs and details about the camera itself such as the make of camera, the model and the unique serial number of the camera.
This information is stored in the photograph itself in a data file.
Several websites allow you to search the web for any photographs taken by the camera using its serial number, and provides additional information so that you can find out who is using your stolen camera.
Several years ago a young Melbourne professional lost his pride and joy a fabulous $5000 Canon EOS 5D Mark II DSLR camera. He reported the loss the police and he knew he had little chance of recovering it. A friend told him about the website stolencamerafinder.com and after a week or so he was able to find out that someone else was using his camera and to trace their location.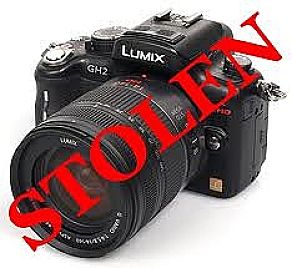 The search came up with the Flickr account of a person who had been using the camera to take photos. The Flickr account listed the man's name and the address. He reported this information to the police along with the serial number and receipt for the camera and they recovered his camera.

This was made possible because of the Exchangeable Image File (exif) which stories information in digital image files that use JPEG compression.
Most new digital cameras (except Sony) use the EXIF annotation of the digital images. This file stores information about how the image was taken including shutter speed, F number, white balance, exposure compensation and the metering system that was used.
Some camera even store GPS information so you can identify exactly where the images were taken.

There are two popular websites you can use for tracking and hopefully recovering your stolen camera - GadgetTrak and StolenCameraFinder. Both of them depend on the fact that every camera has a unique serial number (which is not always true). Modern cameras embed this serial number into every images you take. If a thief or someone the thief sold it to, uploads some images taken using the stolen camera these services can search through online images looking for ones that have the same serial number embedded in them.

Many websites such as Flickr, Google+, Photobucket, and many more retain and record metadata containing the EXIF information when the photos are uploaded onto their sites.

The website application GadgetTrak's Serial Search can be used to search the internet for the serial numbers. All you need to do is to enter a camera's serial number and see if your photos register in their database. In case you do not know the serial number of your camera, you can just right click on one of the photos you had taken from that camera, then click on EXIF details and look for the Serial number there.

StolenCameraFinder offers a similar service. Users can simply drag and drop a photo without having to look for the serial number and the application will do the rest.

You can also use these services to see if anyone is using your images on the web without your consent and potentially breaking your copyright.

Some basic tips

The applications have lists of cameras that are suitable for these applications. An abbreviated list is shown below.
Note: Sony Cameras do not have these feature.

Canon
Casio computer
Eastman Kodak
Fujifilm
Hasselblad
Hewlett Packard
Kodak
Leica
Nikon
Olympus
Panasonic
Pentax
Phase one
Ricoh
Samsung
Sigma
Thieves can change the EXIF data using various available tools but this is unlikely
Some manufacturers can use the same serial numbers for various different models, so you have to be very careful with false accusations.
The tracking does not work with stolen smartphones which do that store their serial numbers in photos
There are privacy implications as you could find all of the photos someone has published on the web. But all the information is publicly available.
You obviously have to be very ware of making false accusation and the enquiries are probably best left with the police to whom you have report the loss or theft. The stolen camera may have been sold to someone else.
Related Articles
=> Q&A Landscape Photography Tips and How to Improve Your Vacation Photos
=> Q&A: How to Take Good Photos with Tips Tricks for Family Portraits, Groups
=> Q&A: Food Photography Tips, Tricks and Techniques for Great Food Photos
=> Q&A: Are Smartphone Cameras a Good Replacement for Digital Cameras?