How to Make Playdough - Homemade Playdough Recipe, Safety Issues
Every child loves to play with playdough which can be transformed into a huge variety of shapes and forms. It can be very messy as it always seem to get stuck on the soles of your shoes and gets tracked around the house. But playing with playdough stimulates creative minds and develops strength and dexterity in little hands and fingers. Working with playdough allows your child to develop, express and share their creative ideas from an early age. No special tools are required and the techniques are easy to learn and flexible. It is very therapeutic and its something that parents can easily join in with their children. The benefits of playdough far outweigh the mess. But there are several safety issues that many parents may not be aware of.
Basically playdough can get dirty very quickly and many children will try to eat it. There are allergy issues and toxicity issues with some of the ingredients. Many commercial playdoughs include doubtful ingredients and items such as glittter, colorings and glow-in-the-dark ingredients. Commercial playdoughs are expensive and many parents may use them too long because of the expense The good news is that you can easily address these safety issues by making your own playdough that is safe for your child provided there is supervision.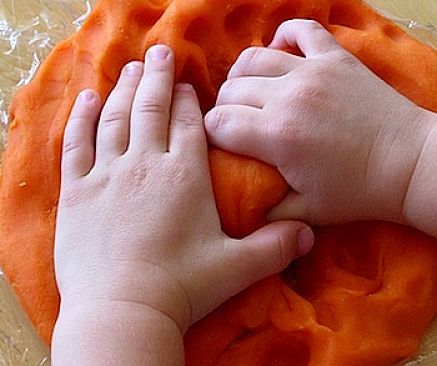 Playdough Suitable for Children of Various Ages
Babies - Babies, younger than about 18 months, are too young for playdough because they put everything into their mouths.
Toddlers - About 19 months is an ideal time to start using playdough under close supervision. Your young child will enjoy simply poking, patting and squeezing the dough. The child may taste it, but will soon be it off by the high salt content and will not eat large amounts if it. Toddlers enjoy discovering things hidden in the playdough, and poking various things into it such as drinking straws, sticks, macaroni, plastic figurines, etc.
Young Children - Young children often use the playdough to make things such as birthday cakes, pizza, and shapes and figures such as people, animals, space ships). It is a goof ides to have playdoughs of various colours available to help with these more complex creations. Around 4 years of age it is a good idea to get children like to help make the playdough before they use it. They can help to measure, mix, pour and add colourings to the playdough.
Safety Concerns
Many people are unaware of the safety concerns for both commercial and homemade playdoughs. Many parent regularly wash toys while the playdough sits soiled in the corner. People should be aware of the health and safety hazards of playsdough.

Choking Hazard - Playdough should not be given to babies under the age of 18 months or so. Young infants may eat a large quantities of it, despite the salt, causing choking. Young children should always be supervised when they are playing with toy, including playdough.

Allergic Reactions - If your child or a playmate has a gluten, or other food allergy, eating playdough may cause the child to develop an allergic reaction (never use peanuts). Because of this, playdough should be kept away from such children. Gluten and wheat free recipes are available.

Artificial Coloring, Alum and Additives - You can add a wide variety of bright artificial colors to playdough. Research has shown that artificial colorings in foods can induce decreased attention and hyperactive behaviour symptoms, allergies and other negative effects. Be careful of other additives such as glitters, alum, etc. Consider using natural food dyes and colourings instead.

How long can be playdough be re-used - Best practice for homemade playdough is to use once and once only, then discard. Commercially prepared playdough has added preservatives which supposedly makes it safer, but it should not be used for longer than a week. It needs to be checked for contamination and children poke all sorts of things into it, including food. This especially applies if more than one child is using the playdough.

Hazard to Dogs - Both commercial and homemade playdough is very salty. Dogs who eat too much can develop a toxicity to salt, causing seizures, brain swelling and comas, and is usually fatal. Always keep playdough away from dogs and other pets.

All playdough should be safe to eat, though contain ingredients that discourage kids from eating it.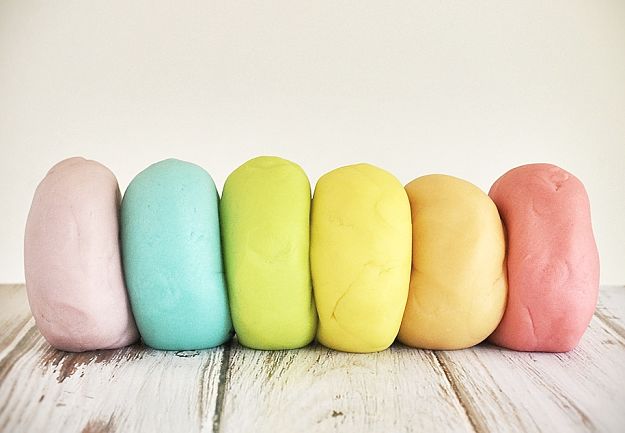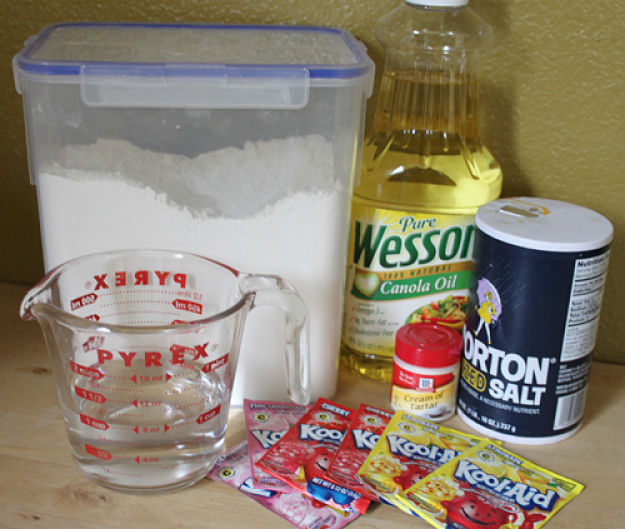 Cooked Playdough Recipe
Ingredients
1 cup of salt
2 cups of water
2 cups of plain flour
1 teaspoon cream of tartar
2 tablespoons of cooking oil
food colouring or natural colours
Method
Mix the food colouring to the water. Then, place all of the ingredients in a medium size saucepan. Cook slowly over moderate to high heat and keep cooking and stirring until the playdough thickens. Cool thoroughly before working in your hands to create and even texture.
Uncooked Playdough Recipe (using Boiling Water)
The boiling water makes this unsuitable for kids until it cools.
Ingredients
3 cups flour
1 1/2 cups salt
3 cups boiling water
4 Tablespoons vegetable oil
4 Tablespoons cream of tartar
Food coloring or natural food colours (optional)
Method
Combine all ingredients except for the flour in a large bowl. Once all the ingredients are well mixed and combined, add the flour. Stir continuously until the dough mix starts to leave the sides of the bowl. Keep mixing until the mixture thickens into a dough consistency. Next, remove from bowl and knead on floured board. Handle carefully as the dough will be HOT. If the dough is too sticky, add more flour. Keep mixing until the mixture comes to the right consistency. At first it will seem unprepared, but with lots of kneading, between sprinkles of flour, you will produce a nice, soft pliant play-dough. Store in an airtight container.
Uncooked Cold Playdough Recipe (suitable for children to help making)
Ingredients
1 cup of flour
1 cup of salt
1 cup of water
Cookie cutters
Rolling pin or narrow bottle Food colouring (optional)
Method
Place the salt and flour into a deep unbreakable bowl. Slowly add water to which several drops of food colouring have been added. Continue to mix until the mixture forms a ball. Then remove to your bench top and knead the dough firmly until it is smooth and elastic without being sticky. Add more flour or water if necessary. When thoroughly kneaded into a firm dough roll it out with the rolling pin or bottle. Use cookie cutters to make shapes or allow children to make their own shapes using various implements such as plastic knives, bottle tops and lids, chopsticks, and assorted plastic shapes.

Rubbery Playdough Recipe
Ingredients
1 1/2 cups water
2 cups baking soda
1 cup cornstarch
Method

Mix with a fork until smooth. Boil over moderate heat until thick. Spoon onto a plate or wax paper and allow to cook before shaping and using.