Q&A How to Load Dishwasher Properly - Tips for the Correct Way to Stack Shelves, Baskets
Despite dishwashers being more that 70 years old, a lot of people still don't know how to stack them properly and how to avoid wasting time and water rinsing items before staking them in the shelves.
The Australian consumer group, Choice, recently conducted a survey of its 3000 members, over a four-year period, to check stacking practices.
This identified many common mistakes Australian are making that leaves dishes not properly washed and eliminates many of the advantages of dishwashers in saving time and water in washing dishes.

This article summarizes these common mistakes and provides tips on how to stack the shelves and baskets properly to make sure dishes, cutlery, cooking utensils, pots and pans are cleaned thoroughly and are hygienic.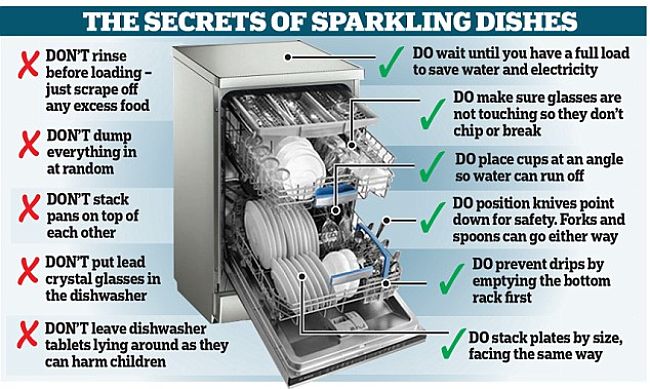 Common Mistakes When Using Dishwashers
Don't Rinse your Plates and Cutlery Before Stacking Them
One of the biggest errors you can make is to rinse your plates,utensils and cutlery before stacking them. If you rinse everything you will double the amount of water used and waste a lot of time. You may a well wash them by hand. Scrape and go is all that is needed. For pots and pans and items that have been left for a while so that food remnants have dried on them, a simple soaking is all that is required. Dishwashers are very efficient at doing their job.
Don't Create 'Shadowing" Effects by Stacking Items in Ways that Block Water Spray Penetration
Think about whether the spray can reach all the nooks and crannies. This especially applies to deep bowls and large items such as large saucepans. But is also applies to plates and cutlery items that are stacked too close together or in way that block the water spray. It is also caused by overloading or stacking bowls one behind the other without any gap between them.
Dishwasher Tablets are Generally a Waste of Money - Powders are Cheapest and Just as Effective
The test that Choice conducted showed that powders were just as effective as tablets and far cheaper.
Pots and Pans can be Washed Effectively in Dishwashers
If the pots and pans can be fitted in and can be effectively reached by the sprays they can be washed effectively in dishwashers. For tough baked on residues - simply soak theme for a short time to soften the stains.
Cup and Glass Load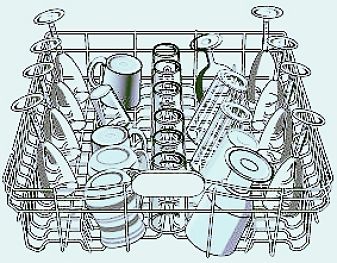 12 Place Setting - Properly Stacked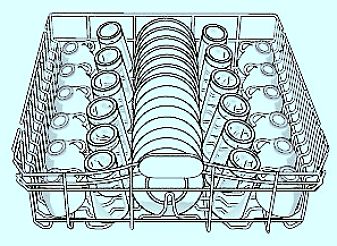 Best Dishwasher Loading Tips
What To Stack into the Dishwasher's Top Rack?
When stacking the top rack, ensure that every surface of each item can be sprayed by the wash arm. The top rack is really designed for cups, glasses and smaller items that can be sprayed vertically upwards, and so stack the items face down. Keep cups and glasses in the top rack only, as hey can be damaged in the bottom rack.
Common things that can be placed in the top rack of the dishwasher are:
Wineglasses (only if they are able to fit without hitting the roof of the dishwasher)
Odd-shaped utensils
Dishwasher-safe plastics
Glasses, cups, and saucers
Saucepans, mixing bowls, and such items (all places face-down)
Tips for Top Rack Stacking
When loading bowls, don't let them overlap at the top, as this creates a shadow that the spray cannot penetrate.
Avoid stacking utensils in pile on top of each other, but rather spread them out over the rack.
Always place items so that any open ends, and bowls face downwards so they will clean and drain properly.
Small pans, pots, bowls and various other utensil items can be stacked into the top rack.
Put bowls into the center of the rack for better stability.
Load plastic items in the top rack only and ensure that the force of the spray does not dislodge them during the washing cycle.
Bottom Rack Stacked and Loaded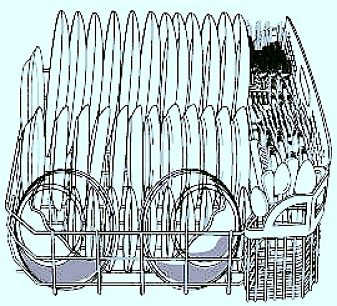 Mixed Load in Bottom Rack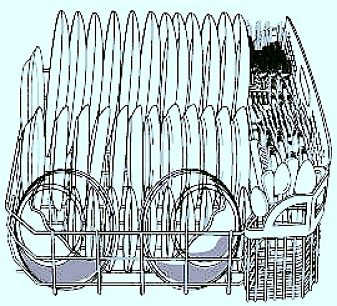 What To Stack into the Dishwasher's Bottom Rack?
Before loading the bottom rack, consider where the detergent dispenser is located, the action of the spray arms and the water jets. Take care to ensure that the spray arms can circulate properly and that the water sprays and not blocked by a larger items. The bottom rack is perfect for pots, plates, pans, baking dishes and large utensils.

Common things that can be placed in the bottom rack include:
Pots, pans and bowls (along the sides, in the corners or at the back)
Large platters
Large items (should go along the sides)
Saucepans and cookware
Large Plates
Tips for Bottom Rack Stacking
Load plates, soup bowls, and similar items between the rack tines.
Don't load cups, plastic items or glasses in the bottom rack.
Make sure any small utensils and other items are secure.
Do not position items outside of the bottom rack itself, up against the side of the dishwasher, because they can interfere with the water circulation.
Ensure that pot handles and large items do not interfere with the rotation of the spray arm.
Put heavily soiled items face down in the center of the rack.
Don't load cake pans, cookie sheets and other larger items at the front. Put them at the back or long the sides. Loading them in front can interfere with the water sprays.
Don't nest soup, cereal and serving bowls but distribute them with plenty of spaces between them.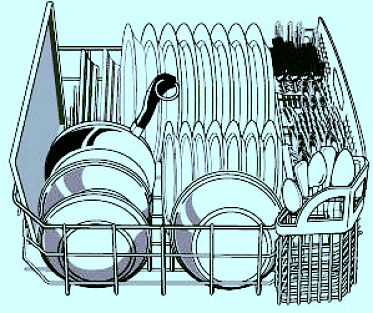 How to Load the Dishwasher's Cutlery Basket
While modern dishwashers no longer require careful sorting is it still necessary to space the items to ensure the water sprays can reach all surfaces. 'Topping and Tailing' the items helps ensure there are no 'shadows'.
Tips for Loading the Cutlery/Silverware Basket
You can load the cutlery basket left in the dishwasher, or remove it for loading on a benchtop.
Load items with covers down, and use the separators to prevent items from nesting.
Place tiny items such as baby bottle caps, jar lids and small utensils in the section with the cover so that they remain secure and are held in place.
Make sure you load any sharp items, such as skewers and knives with sharp ends pointing down.
Remove the basket before unloading the bottom racks to stop any water droplets spilling onto the cutlery.