Natural Hair Conditioner Recipes - Homemade for Deep Conditioning
Modern hair conditioners are a complex concoction of chemicals that can damage your heir in the long term.
The chemicals include Acidifiers - which make the hair more acid and remove grease; Anti-static agents that making the hair more manageable by removing static electricity, and a variety of synthetic fatty acids proteins and fragrances.
They also include synthetic lubricants, moisturisers, polymers, surfactants and preservatives. Do you really want this cocktail of chemicals on your hair and scalp?
Well, the good news is that you can make your own homemade and natural conditioner from readily available natural products.
There are also many recipes for natural homemade shampoos as well. There are national conditioner recipes for all types of hair: dry or greasy, short or long and for all sort of colors and hair strand thicknesses. This article describes the various natural ingredients that are suitable for making conditioners and provides a list of recipes for various hair types.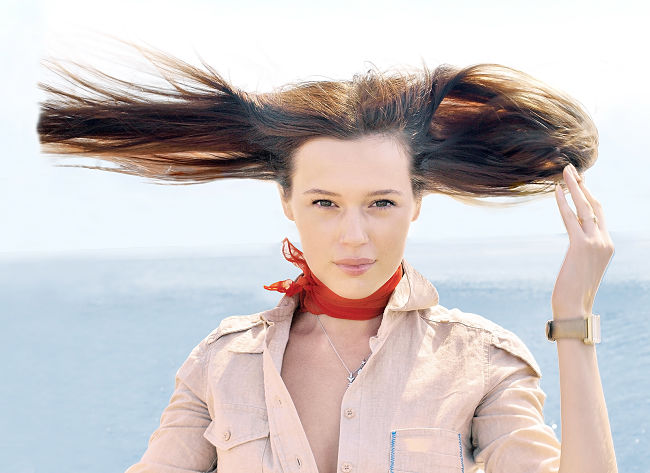 What natural ingredients can be used for hair conditioners?
Cider vinegar is one of the most common natural hair conditioner and rinse. Some people swear by it, other think it is too harsh. You can make a rinse by adding 1-2 tablespoonfuls of high quality cider vinegar to a pint of water. The vinegar acts to increase the acidity of hair, removing shampoo residues and oil and leaving the hair shiny and silky-soft. Be warned that the rinse can sting if it gets into your eyes!
Dilute tea is another slightly acid hair rinse which has a conditioning effect.

Many people use conditioners or hair treatments based on eggs - which boost the protein in the hair and the yolks are rich in natural oils and oil-rich.
For dry, brittle hair use the egg yolks only to moisturize
For oily hair use the egg whites only
For normal hair, use the entire egg to condition hair
Apply about 1/2 cup of the egg mixture suitable for your hair and apply to damp, washed hair (not warm or hot). Use more for longer hair to ensure you coat the entire scalp and hair. Leave on the hair for 15-20 minutes, rinse with cool water (don't use hot water as the egg may cook) and gently shampoo the hair. Yolks-only and whole egg treatments can be done about once a month; egg whites-only treatments can be done every two weeks.

Many homemade conditioners include a variety of natural oil ingredients. Treatment with oils help to detangle and the soften and make it more manageable. There are a variety of different oils which can be used:
Pure olive oil can be massaged into the scalp before you wash your hair. Apply about one tablespoonful of oil and rub into the scalp. For boosted results, wrap your head in a warm towel for 15-20 minutes before you wash the olive oil out. Apply a little more shampoo than normal to remove the oil, but don't overdo it. This treatment will leave your hair feeling soft and silky and quite surprisingly non greasy.

Rosemary oil is also beneficial. All you need to do is to add 1-2 drops of rosemary oil to the water for your final rinse. To use fresh rosemary simply add a group of rosemary leaves to water and boil for about 10-15 minutes. Cool, remove the leaves and use this for your final rinse.

Carrot oil, Safflower, Jojoba (Great for Moisture), Extra-Virgin Olive (Great as a Moisturizer for Thick Hair), Castor Oil (Moisturizer and Hair Loss treatment), Coconut (Creates a lovely Shine), Sweet Almond Oil (Moisturizer), Grapeseed Oil (Good for Shine), Aloe Vera Oil (Hair Loss treatment), Avocado Oil, Sesame Oil.

Henna powder is also an excellent hair conditioner, but buy the variety that has the natural colorant removed unless you want red hair! It is safe, widely used and gentle on your hair.
Honey Treatment for Dry or Sun-Damaged Hair
Honey is a natural product the attracts and retains moisture. Rub about 1/2 cup honey into damp, clean hair and leave it on for about 20 minutes, then rinse with warm water. To the honey you can add 1 - 2 tablespoons of olive oil to make it easier to apply. Treat your hair about once a month.
Treatments for Oily or Greasy Hair
Cornmeal or cornstarch can be used to remove oil and grease from hair. It sounds messy, but its natural and it works. Transfer about one tablespoon of fine cornstarch or cornmeal into an empty pepper or salt shaker. Sprinkle the contents onto your dry hair and scalp until its all used. After 10-12 minutes, apply a paddle hairbrush or fine toothed comb to thoroughly remove it from your hair. The starch absorbs the oil from your hair.
Treatment for Frizzy Hair
Many home beauty experts recommend avocado for smoothing your hair. Both the protein and natural oils in avocado are effective. Thoroughly mash half an avocado and then massage it into your damp and clean hair. Leave in the hair for 15-20 minutes before rinsing with water. You can boost the moisturising power by adding 1-2 tablespoons of sour cream, mayonnaise or egg yolks. Repeat the treatment once every two weeks.
Natural Hair Conditioner Recipes
Method for all the Following Recipes
Mix all the ingredients for the appropriate conditioner in a small bowl until the mixture forms a pliable even paste. Wash your hair. Apply the conditioner mixture to the ends of your hair with your finger-tips. Thoroughly massage the conditioner into your hair and run into your scalp. Cover your hair with a shower cap and apply a preheated towel over the top. Omit the warm towel if using a conditioner containing egg. Leave the cap on for 45-90 minutes and then gently wash and rinse.
For chemically treated hair
1 drop patchouli essential oil
3 drops rose-otto essential oil
1 egg yolk
1 tablespoon jojoba oil
2 tablespoons protein powder
2-3 tablespoons warm water
For dry hair
7 drops myrrh essential oil
3 drops geranium essential oil
1 egg yolk
1 tablespoon jojoba oil
2 tablespoons protein powder
2-3 tablespoons warm water
For oily hair
3 drops tea-tree essential oil
7 drops cedarwood essential oil
1 egg yolk
1 tablespoon aloe-vera gel
2 tablespoons protein powder
2-3 tablespoons warm water
For normal hair
5 drops sage essential oil
5 drops spearmint essential oil
1 egg yolk
2 tablespoons protein powder
1 tablespoon jojoba oil
2-3 tablespoons warm water
For dandruff control
3 drops rosemary essential oil
3 drops cypress essential oil
5 drops tea-tree essential oil
1 egg yolk
1 tablespoon jojoba oil
2 tablespoons protein powder
Related Articles Hair
=> Chamomile Tea Health Benefits, Uses and Remedies
=> Darken Hair Color Using Natural Home Remedies without Using Dyes
=> Best Hair Color for Blue, Light Brown, Green, and Hazel Eyes
=> Lighten your Hair Color with Homemade Hair Lighteners, Highlights
=> Best Treatment for Dry Hair Using Natural Home Remedies
=> Homemade Hair Conditioners and Detanglers
=> Home Remedies for Itchy Scalp and Dry Scalp - Treatment and Prevention
=> Home Remedies to Control Frizzy Hair
=> Add Volume to Hair - Tips to Volumize Fine Hair, Get More Hair Volume