New Moves to Make Helmets Compulsory for Skiing and Snowboarding
Helmets and Injuries
The overall risk of injury from skiing or snowboarding is much lower than most people imagine ( one to two injuries per 1,000 skier days and two to four injuries per 1,000 snowboarder days).
A 2011 British Medical Journal study from the University of Innsbruck suggested helmet use reduced head injuries by 35% in adults and 59% in children under 13.
The same study showed 74% of head injuries occurred when skiers hit their head on the snow, 10% when they collided with each other and 13% when they collided with fixed objects.
A study in Scotland from 1999 - 2008 found head injuries accounted for just under 15% of all boarder and skier injuries.
Despite a three-fold increase over the past 15 years in the number of wearers, some research shows that the total of head injuries and deaths hasn't fallen, while others suggest that helmets do limit injuries and do not encourage risk taking.
Ski helmet obligatory in Austria - In some Austrian provinces (Salzburg State, Upper and Lower Austria, Styria and Carinthia) young skiers till the age of 15 must wear a ski helmet while on the slopes. Tirol and Vorarlberg do not have such statutory regulations. In both provinces a public recommendation for wearing a ski helmet has only been made. However the amount of winter sport enthusiasts wearing a helmet amongst young skiers and adults is significantly increasing. Don't have your own helmet? Ski helmets can be rented from ski schools and ski rental shops throughout Austria.
Alan Griffiths, Val d'Isere's British doctor for 17 years and a leading expert on snowsport injuries, is an adamant supporter: "I'm absolutely behind helmets and haven't seen anything that would persuade me to think to the contrary.
"If you spent a month or even a day in my surgery, you'd realise that there isn't any argument.
"Even with people wearing helmets there isn't 100% protection, such as if you hit a tree at 30mph. However, most injuries take place at slower speeds when helmets can certainly reduce the severity of injuries and save lives."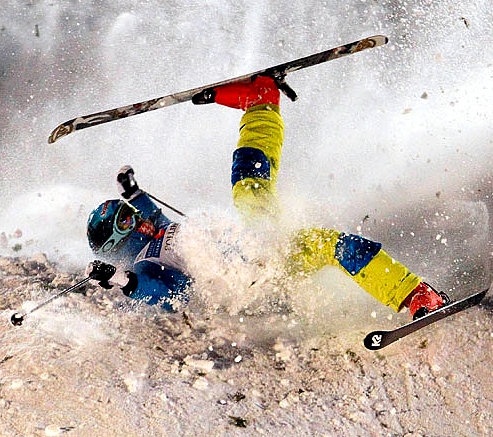 There is a growing push for mandatory use of ski helmets and snowboard helmets on the ski slopes.
Helmets have been shown in various studies to reduce the number and severity of major head injuries.

The move has been triggered by the death of various well known people in skiing accidents.

Actress Natasha Richardson died while skiing in Canada in 2009 after a fall on a beginner's ski run that cause a fatal head injury.
The 45 year old Richardson, who has won a Tony award and was the wife of actor Liam Neeson and mother to their two teenage sons.
She fell while skiing on a beginner's slope at a Quebec resort and died in a New York hospital, surrounded by her family, including her mother Vanessa Redgrave, and her sister Joely Richardson.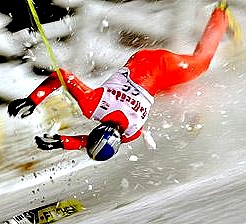 The tragic death of many skiers, many of them beginners who collide with trees and other objects has led to an increase in voluntary use, especially for children.
High velocity collisions with trees in 1998 led to the deaths of Sonny Bono on January 5, 1998, and Michael Kennedy.
Also in 2009 a mother of four children was killed on an Austrian ski run, when she had a tragic collision with a politician from German. The politician survived - he was wearing a ski helmet. The woman, who unfortunately was not wearing a helmet, suffered a fatal brain injury and died.

The tragic death of Michael Meagher, a prominent Sydney journalist and Public Relations expert, at Guthega last year, and several deaths of members of the public, has again prompted calls for mandatory use of ski helmets on Australian Ski slopes.
The tragic deaths of two teenage girls in the Snowy Mountains Australia, also highlighted the dangers of skiing, and that helmets don't always save lives. Hannah Taylor, 16, was killed when she hit a tree at Thredbo in early August, 2009. Another teenager, Amelia McGuiness, 16, died after colliding with a tree at the bottom of Rock Garden at Blue Cow.
Both teenagers were wearing protective helmets at the time of the collisions. In 2008, three men lost their lives on the same day – two at Perisher, in the Snowy Mountains when, they collided trees and the third in an avalanche at Blue Lake, in the back-country.

The situation is very similar to the reluctance of professional bicycle riders to allow mandatory helmets in bike race being suddenly reversed by the tragic death of Kazakh Andrei Kivilevin, a professional bike rider in a race in March 2003. Kivilev hit the ground after a collision and died from a serious skull fracture. The new compulsory helmet laws for bike races were implemented on May 5, 2003.


Debate about Mandatory Bicycle Helmets
Statistics and Research
Statistics from countries all over the world show that head injuries represent about 10 to 20 per cent of reported injuries on the ski slopes, and neck injuries account for an additional 1-4 percent.

Helmet use is encouraged in Canada but has not been mandatory, although helmets are mandatory for children under 12 who are enrolled in programs at many of the resorts.
Voluntary helmet use is growing with about 60 per cent of skier and snowboards using then at some locations. Why not make them mandatory?

Officials at the 'Resorts of Canadian Rockies' - which runs Nakiska in Alberta and Kimberley and Fernie in British Columbia - have required mandatory helmet for their learn to ski programs. Many other skiers and snowboarders on these slopes wear helmets voluntarily. About 90 per cent of the resort staff wear helmets all the time. At Calgary's Canada Olympic Park, helmets use is mandatory in the challenging and more difficult and dangerous areas such as 'terrain park' and the 'half pipe'. Other skiing locations have a similar policy, which was developed by the Canada West Ski Areas Association.
In Austria it is obligatory for children under 16 to wear a helmet when skiing or snowboarding. Italy also has introduced mandatory helmet use laws for children.

There is very strong research supporting the benefits of wearing helmets. Studies by researchers at the University of Innsbruck' published in the British Medical Journal estimated that the mandatory wearing of ski helmets could reduce head injuries by a third in adults and two-thirds in children under 13.
The recognition of the need to take care and avoid of brain injuries from accidents could also increase if people wore helmets. Although many people have argued the opposite that wearing helmets encourages people to take risks.

Other studies have shown that three-quarters head injuries occurred when skiers hit their head on the snow after a fall. A further, 10 percent of head injuries occurred when skiers and snowboarders collided with other skiers and about 13 percent when they collided with fixed objects.

One of the main arguments raised by those opposed to mandatory helmet laws is that helmets impede the vision of skiers and therefore increased the risk of accidents. Gerhard Ruedl and colleagues at the University of Innsbruck discounted these claims. As applies to bike helmets, many people have also argued that wearing helmets gives people a false sense of security and increases risk taking. However this argument is countered by the observation that most helmets are worn by he most skilled ski and board riders. Many beginners have accidents and head injuries when their limited skills and experience would not allow them to take great risks.

A major review study by researchers at the University of Calgary scientists showed conclusively that people who wear helmets are much less likely to suffer head injuries in a fall. The research analyzed a total of twelve studies in Asia, Europe and North America. The conclusion from the study was that skiers and snowboarders who wore helmets reduced their risk of head injury by about 35 per cent. There was no evidence helmet use caused an increase in the incidence neck injuries as many people had claimed.
Modern helmets are attractive and streamlined and their use becomes a habit rather than a chore after a while.

Dr. A Stewart Levy, who is chief of neurotrauma and neurosurgery and at St Anthony Central Hospital in Denver, Colorado, put his beliefs into practice many years ago. He witnessed too many head injuries from skiing accidents and was convinced of the benefits of helmet use. He began giving away safety helmets 1997 and has donated over 1,000 helmets during his personal campaign. He has referred people to an unpublished study that found helmets reduced the risk of brain injury by 75 per cent between 1998 and 2005. He was aware of other studies that showed helmets reduced brain injuries by between 50 and 80 per cent.

Dr Levy is quick to point out that wearing a helmet when skiing or snowboarding is only part of the aim to reduce head injuries. Skiers and snowboarders must be educated and learn to ski responsibly to avoid risks and dangers. The stated that wearing a helmet is not a license to ski recklessly.

The majority of ski race clubs, and snowboard event organisers make helmet use mandatory for competitors.
If the ski racers and competitors need them, despite their skills and experience, then all skiers should wear them.
Similar arguments have led to mandatory bike helmet laws being introduced in Australian and many other countries .

It is true that deaths and injuries on the ski lopes are relatively rare. Statistics from the 1991/92 to the 2003/04 season inclusive, showed a total of 469 traumatic deaths on the US ski slopes (401 were skiers; 58 were snowboarders). A total of 650 million skier days occurred during these 13 seasons giving a death rate of 0.71 deaths per million skier days (or one death every 1.4 million skier days) which is a very low figure. In the 2006/07 ski season there were 22 deaths from 55.1 million skier/snowboarder days. Although the chance of dying or being injured in a car accident is much higher (you have a one in 77 chance of dying in a motor crash in your lifetime), seat belts are mandatory. Motor Cycle bike helmets are also mandatory in most countries.

Helmets will not save the life of every ski accident victim, but they have been shown to be very effective in many cases, and to greatly reduce the number and severity of head injuries.
Helmets should be Mandatory! What do you Think!
Where Do You Have to Wear a Helmet When Skiing or Snowboarding?
Legally, nowhere (except Novia Scotia, see above) if you are 18 or over. California has legislation in place but successive governors have vetoed it, so at the moment the 'law' is unenforceable. Snowparks in some resorts insist on headgear, but there's no legal requirement. In the 10 resorts owned by Vail Resorts, all instructors and resort staff are required to wear helmets.
For children, it's altogether a different matter. An increasing number of ski schools and lift companies won't accept children who are not wearing one – even if the instructor is not wearing one. I think this is a bit like a driving instructor saying 'personally, I don't bother with a seat belt, so why are you?'
France and Switzerland have no rules, although the ski schools strongly encourage it. In Italy it's compulsory up to the age of 14.
In Austria, it depends on where you are skiing: most families from other countries visit resorts in either the Tirol or the Vorarlberg, where there are no rules – or they go to Salzburgerland, where children under 16 must wear helmets. Kids also have to wear hard hats in Upper Austria, Styria, Lower Austria, Burgenland, Carinthia and Vienna.
The helmet regulation also exists for children under 13 in Slovenia. There's no law in Andorra, Slovakia, Spain or Sweden – although in Sweden children up to seven ski for free if they're wearing one.
Norway encourages helmet wear but doesn't enforce it; most children skiing there wear helmets, and now most adults do too. There is no law in Bulgaria but helmet wearing is highly recommended. The rules are not clearly defined in Romania.
In the USA and Canada (Novia Scotia excepted), there's no legal requirement, but there is cultural pressure – children would look a bit odd without one. In Western Canada, for example, 99.5% of children under 14 years and 81% of all other skiers and boarders wear them. Rules differ among ski schools, for example Lake Louise requires children under 12 years in ski school to wear a helmet.
Within Canada and the U.S., only Nova Scotia has legislated the mandatory use of helmets on ski hills even though head injuries account for up to 20% of the 600,000 ski- and snowboarding-related injuries in North America annually. In Europe, Italy, Croatia and Austria have helmet laws for children only.
And while high profile deaths like that of Natasha Richardson, who died of a head injury sustained on a novice hill at the Mont Tremblant resort, have encouraged more helmet use there remains little consensus among ski hill owners about whether or not to make helmets mandatory.
How Do I Choose a Helmet?

With difficulty, if you try to buy it in a resort shop in the second half of the season. Most of the models on display seem to be size S with a scattering of size M, leading me to the conclusion that most skiers and snowboarders have large heads.
Watch the video above for advice on how to choose your helmet size. It needs to fit snugly and feel comfortable, even when shaking your head. When you align the front of the helmet above the eyebrows, the helmet shouldn't feel wobbly. Some brands will fit you better than others.
Helmet size is the circumference of your head just above your eyebrows. Don't buy one that feels too heavy or uncomfortably tight.
Don't forget to bring along your goggles when you try on a helmet to make sure they fit your face over the helmet. Things to look out for are decent air vents, an efficient goggle retainer clip at the rear. A new type of helmet, such as those from Kask, have integral goggles with interchangeable lenses.
The helmet standards to look for are the European (CE) Standard EN1077 or the American standards ASTM 2040 or Snell RS-98. The European EN1077 standard comes in two categories: A and B. Category A helmets are aimed primarily at ski racers, and are built to withstand impacts at slightly higher speeds, as well as protecting more of the head (notably, the area around the ears).
Increasingly, these helmets also conform to the International Ski Federation's more exacting 2013 regulations (FIS RH 2013). Most helmets sold to holidaymakers are category B helmets.
Keep an eye for the MIPs system, too, which is incorporated into an increasing number of category B helmets. This allows the helmet lining to rotate inside the shell on impact, absorbing some of the force of the blow.
To help in your research visit Skihelmets.org, which is a US website that will give you an idea of just how vast the choices are when buying a helmet.
How Often Should I Replace My Ski Helmet?
The normal recommendation is every three to five years because the inner foam hardens and becomes brittle, which means there will be less shock absorption in an impact. You'll need to replace your helmet sooner if you've had a crash or if there is damage (such as cracks or dents) to the shell.
Make sure the chin strap is buckled – it's not going to be much use to you if it falls off in an accident before impact!